Location Map of Sandakan Sabah Malaysia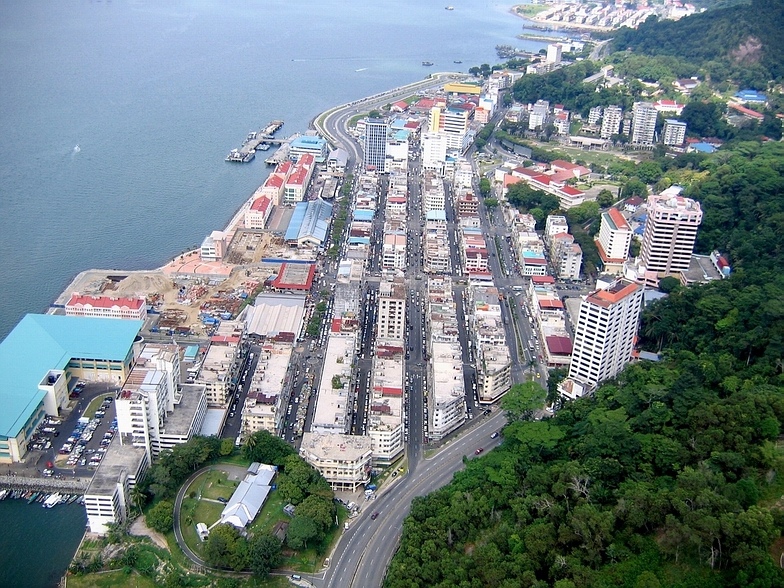 Aerial view of Sandakan, Sabah, Malaysia


Opposite position: Aerial view of Sandakan Sabah Malaysia

Picture taken from the Puu Jih Shih Buddhist Temple

Location of Sandakan, Sabah, Malaysia - [edit]
Sandakan is located in the north-eastern tip of the island of Borneo. It is the second largest city in Sabah, Malaysia.

The largest city is Kota Kinabalu - capital city of Sabah

History of Sandakan, Sabah, Malaysia - [edit]
During the early 1870s, the east coast of Sabah was under control of the Sultan of Sulu, who also ruled most of the southern Philippines.

Government of Sandakan, Sabah, Malaysia - [edit]
Please help us keep this site updated. If you are from Sandakan, Sabah and you know the names of the elected officers, please go ahead and post them here.

Businesses in Sandakan, Sabah, Malaysia - [edit]

Schools in Sandakan, Sabah, Malaysia - [edit]
The name of your school in Sandakan, Sabah can be listed here. You can list it like this:

Churches, Mosques, or Places of Worship in Sandakan, Sabah, Malaysia - [edit]
The name of your church, mosque, or place of worship can be listed here.
We can even provide you with a free webpage for you. We can help you.

Economy of Sandakan, Sabah, Malaysia - [edit]
If you have an article that talks about the improvement of the economy of Sandakan, Sabah you can post that article here.
If you come across any news item that talks about the economy of Sandakan, Sabah, you may post it here. Of course you have to reference the writer of the article.
Any improvement to transportation, power and service usually improves the economy of the community, so go ahead and report that too.
Natural Resources of Sandakan, Sabah, Malaysia - [edit]
This page needs some articles about the natural resources of Sandakan, Sabah. Where does the energy source of this city come from? Are there any mining industries? Rivers and tributaries are part of the natural resouces.
Tourists Attractions of Sandakan, Sabah, Malaysia - [edit]
Help us add some of the tourist attractions of Sandakan, Sabah in Z-wiki. This will help boost the local economy of Sandakan, Sabah.
Anything that is unique or anything that stands out in your community may be a tourist attraction.
Landmarks are usually photographed a lot by visitors. Post the Sandakan, Sabah landmarks here.
Upload your pictures. Click Here to upload.
Bicycle trails in Sandakan, Sabah - [edit]
Cycling is one the best activities in the world. Bikers all over the world are always looking for the best cycling trails around. So if you are a bike enthusiast and you know of some great bike trails in Sandakan, please share them with the rest of the world.
If you have the experience of mountain biking or have been on a holiday biking tour and you have some recommendations as to where to camp out or stay, whether it be in a motel, hotel or any type of inn, please provide with some information.